Presentation
Le Notaire vous accompagne tout au long de votre vie
To choose a Notary is the guarantee that your matters will be entrusted to a Professional who listens to you, is available and reactive and who cares about the law and human relationships.
After having spent several years working in London, I am comfortable working to, and complying with, the expectations of an English-speaking clientele.
Our offices are situated at the Port and parking is easily available.
We are equipped with the latest AAE (actes authentiques électroniques) technology which ensures rapidity and security.
We are here to listen and put forward solutions, meet the demands of clients, to simplify and bring security, we are available and able to react quickly.
Our offices are at your disposal to accompany you throughout both your professional and private lives.
We would be honoured to meet you soon,
Corinne
Our people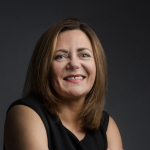 Maître Corinne FOURNIER


Civil Law Notary - Notaire
Spoken Language(s) :
French, English (fluent)
French Notaire
Able to assist non-French buyers to purchase property in France and sellers to sell their French property, throughout the whole of French territory and also specialise in advising the same clientele on loan/mortgage agreement as well as French inheritance and tax matters.